In more than 20 towns and cities around the UK, the contents of prominent billboards have been replaced by striking, original posters calling out Barclays' financing of environmental destruction. Over 200 locations feature designs from 11 different artists in a campaign co-ordinated by Brandalism to highlight the facts behind the green credentials claimed by the bank. The artwork above by @darren_cullen caustically illustrates Barclays' funding of ecosystem destruction as documented in Bankrolling Extinction, while those shown below call out other aspects of the bank's profit-before-planet approach.
Such widespread bad publicity for Barclays risks causing a loss of customers from its valuable retail arm – not long ago seen by some as a preferable focus compared to its underperforming investment bank. Already in the first half of 2021, around 10,000 more Barclays customers switched to a competitor than joined it from one (source: CASS) and public concern about the environment recently doubled to become the second-biggest issue on people's minds, behind (receding) concern about COVID-19. With increasing public awareness and protest visibility causing a potential 'perfect storm' of reputational damage for Barclays, how much longer can the bank afford to pursue greenwash in place of substantive change?
See the Brandalism site for more pictures and details of the poster campaign.
---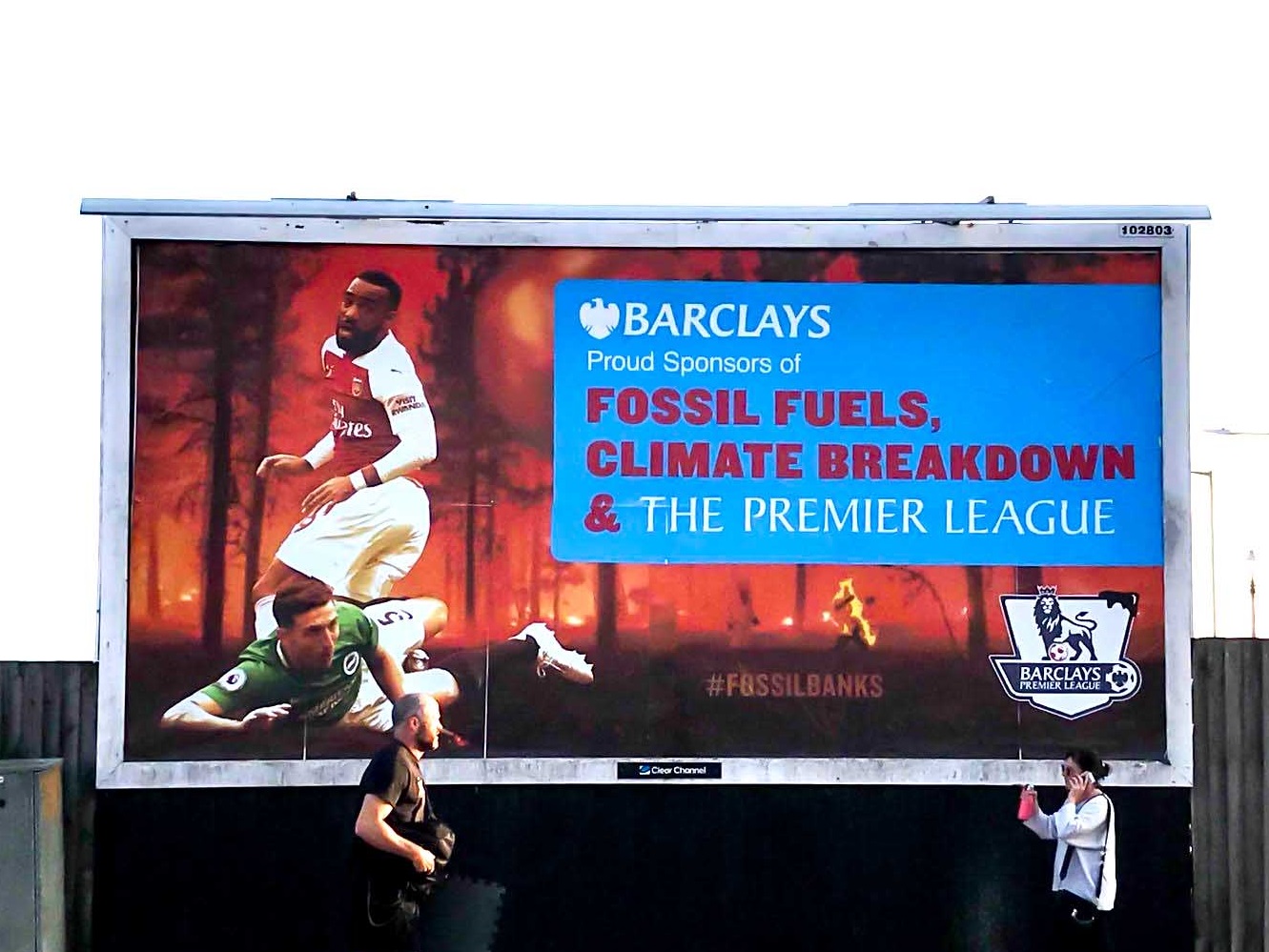 This artwork by @fokawolf underlines the absurdity of Barclays burnishing its image with football sponsorship while funnelling money into a climate breakdown making play impossible (though sport will be the least of our worries following a 2.7°C temperature rise.) More details here.
---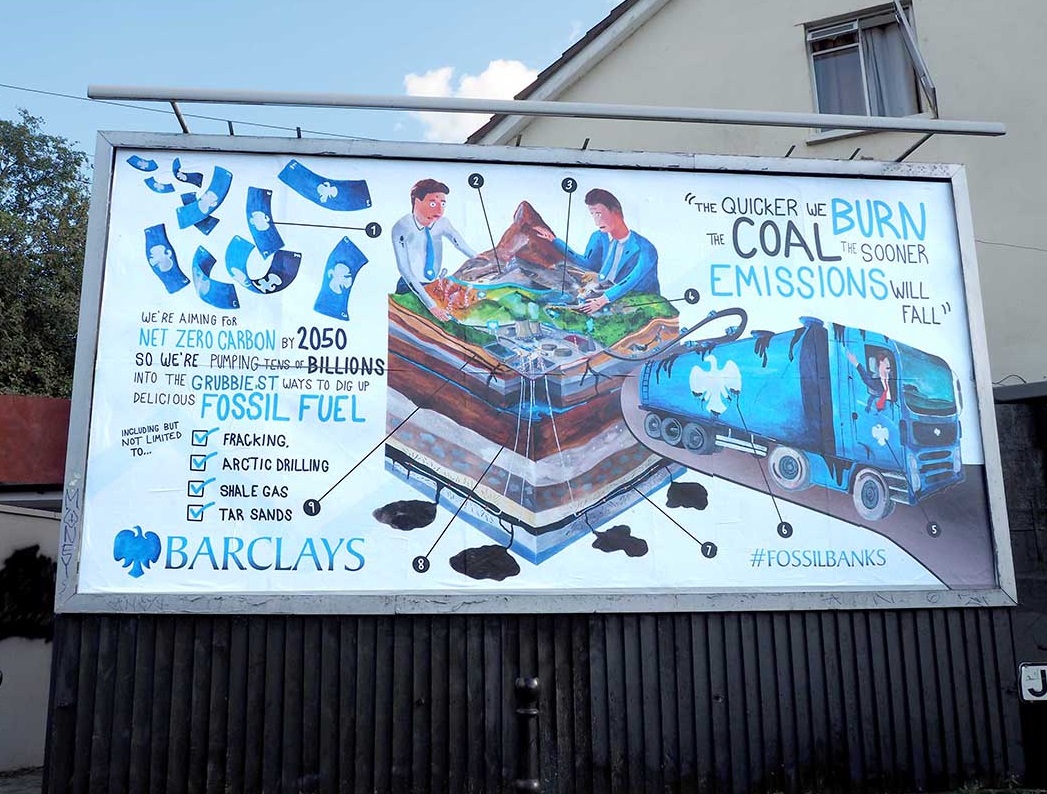 The scope of Barclays' involvement in fossil fuels is foregrounded in this poster by @mernywernz – even coal financing is barely limited by the bank's policies.
---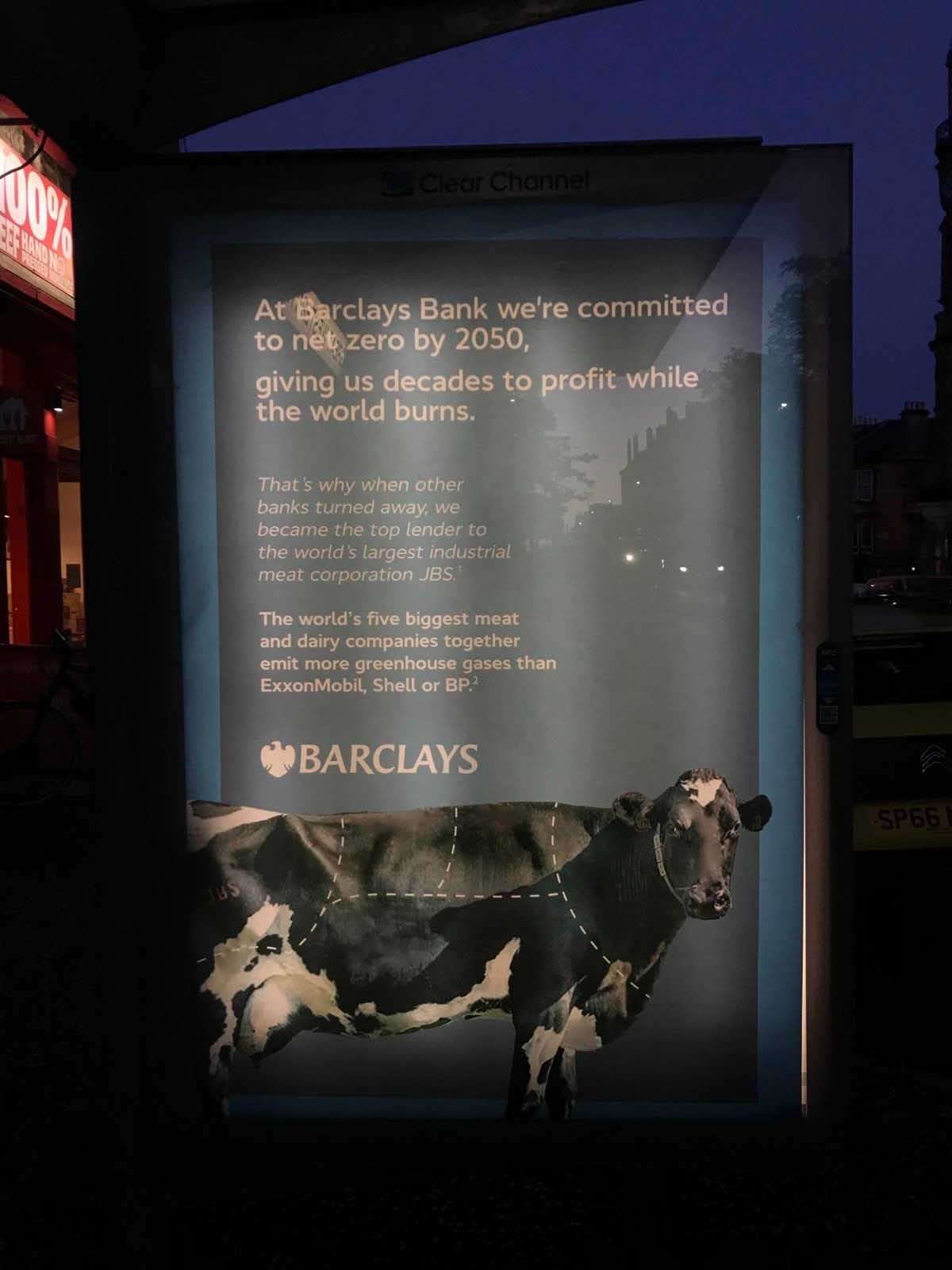 Michelle Tylicki's design focusses on the enormous climate footprint of meat and dairy giants that Barclays helps finance. Companies like JBS cause devastation in the Amazon and beyond. The Butchering the Planet report from Feedback spells out Barclays' role in the destruction.